Service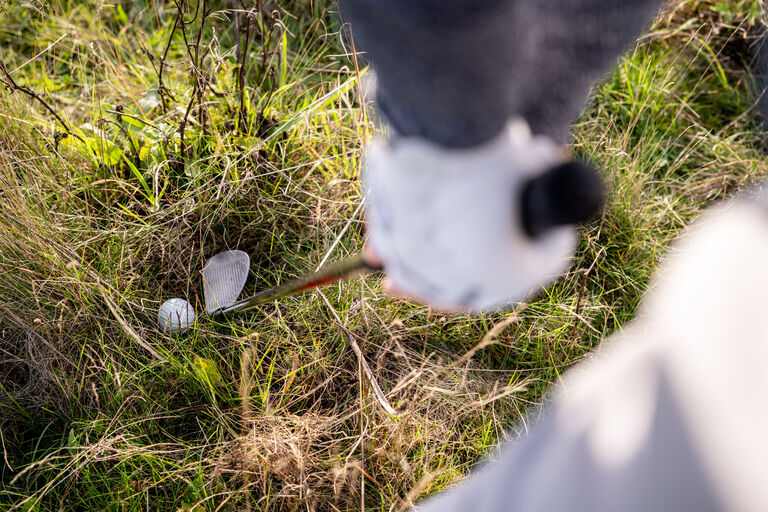 The BAL.ON customer service helps! We provide dedicated support during business days from 10.00 – 15.00 h CET. Please get back to us via the contact options listed below:
E-Mail: contact@bal-on.golf
Phone: +49 511 6302 7676 (English & German)
For outside business hours we have prepared a few answers to the most common questions in the following FAQ section.
You will receive a shipping confirmation once your order has left our warehouse. Please keep checking your mail.
We ship to all corners of the BAL.ON world – there are exceptions, however, for Spain and Portugal: we cannot ship to the Canaries, Melilla and Ceuta and neither to the Azores or Madeira.
BAL.ON is a kit of smart pressure soles, electronic transmitters, and a smartphone app. Nine weight distribution sensors on each sole combine with AI to provide you with real-time analysis and coaching. BAL.ON captures information invisible to human eyes and enhances it via machine learning to give you a competitive edge in your game.
BAL.ON is designed for all golfers who are searching for fact-based improvements in their swing.
For now, the BAL.ON app is available in English and German. Further localisations will include French, Spanish, and Swedish.
BAL.ON is available in selected golf retail outlets, online and stationary, see the notice in the shop section of our website. We aim to make it available in our webshop from August 2023 onwards.
The BAL.ON app monitors your pressure values and matches them with your video sequences. It compares both with thousands of reference player data, among them many qualified pros. It spots where you have a potential for optimization – and it suggests the most fitting drills for your individual improvement.
BAL.ON reflects your left-to-right pressure distribution, your individual toe-to-heel pressure distribution for each foot, and how your center of pressure moves. It also x-rays your swing along seven metrics: set-up, backswing, transition, impact, max vertical, vertical timing and rhythm. The user manual explains the metrics in more detail.
Not at this stage, no. However, we are looking to partner up with some tour professionals that fit our brand in the future.
We work with several PGA pros to assure maximum coaching quality.
Our drills are great for home-use, but in fact location neutral – you can do them anywhere, at home or on a practice range. Our recommendation is to do the first batch of repetitions without a ball, which also favours home-use.
In general, you can use your BAL.ON insoles anywhere. To make the most of the real-time feedback, it's probably best using them in a controlled environment of either your home, an indoor practice range, or the driving range.
Yes. You can replay your swing video in slow motion. Just click on the related icons in the video replay menu.
We´ve got S, M, L, XL – like T-shirts.
S = EU 36–38, M = EU 39–41, L = EU 42–44, XL = EU 45–47
A hint from our end: in case of doubt, choose the smaller size.
Our insoles are specifically designed to fit in any golf shoe. In case you cannot take the original insole out of your shoe, you can put our BAL.ON insole on top of it.
We tried to design it so that it matches a variety of shoes, but focused on shoe types that competitive golfers actually play in. You'll have the best BAL.ON experience in these.
No, but it is recommended to buy an insole that fits exactly, or if it is not possible, buy the one that is smaller than the original shoe insole.
The product needs to be dry and clean to operate in the best possible way. We recommend using a slightly damp cloth to do the cleaning. Don't use harsh chemicals or detergents under any circumstances. Also, don't clean your insoles under running water nor in the washing machine.
Please charge your BAL.ON insoles for about 2 hours.
Yes, our ultra-thin insoles are specifically designed to fit under any kind of insoles – including orthopedic or medical insoles.
The top surface dries fast and is skin-friendly and the bottom is made of an anti-slip material.
Get started & trouble-shooting
We recommend to place the insoles under the original insoles, if there are any. Simply take them out, put in the BAL.ON insoles and put your original insole back on top of them. Don't forget to clip the smart pods onto the shoe sides. If there are no original insoles in your golf shoes or you are just uncomfortable with taking them out, no problem! Simply insert the BAL.ON insoles just like that, clip on the smart pods, start training.
You need to activate Bluetooth on your phone and turn on the BAL.ON smart pods. Then, once you open the app and ask to connect, press »pair«, and select your insole. Please do that for each sole separately. For unpairing you can disconect through the app.
1. Insert the insoles under your original shoe insoles. 2. Fix the clip to the outer side of each shoe. 3. Attach the smart pods to the clips. 4. Turn the smart pods on and connect via Bluetooth to your smart phone. If in doubt, please refer to the user manual in our web shop.
When you receive your product, the battery will be charged to some extent, so you can start using your Pressure Soles immediately. However, before your first use, we recommend charging your BAL.ON Smart Pods completely until the LEDs light up green.
We currently limit one single swing recording to 60 seconds. This should be enough time to setup and perform one well-prepared shot.
We currently recommend not to do any practice swings while recording, because the Swing Key Positions might automatically apply to your practice swing. You can always edit them manually to apply to your actual shot.
Try filming yourself in shorter videos. You can also lower your framerate. Within "Settings" go to "App Settings", then "Framerate Settings".
This occurs sometimes due to special characters in your email address. Please use an email address with standard characters from a qwertz-typepad. Thanks for taking the trouble!
This happens rarely, but it does happen, we apologize. Please let us know via contact@bal-on.golf – your account has to be deleted and you would have to register again. We are very sorry for that.
Please try to reset the password. In case it still does not work, let us know via contact@bal-on.golf. We would need to delete your account and have you create a new one from scratch. Please accept our apologies for the inconvenience.
You can delete your session by swiping the session tile to the left in the overview panel.
1. Activate Bluetooth in your phone's settings
2. Activate the smart pods by pressing on the button
3. Open the BAL.ON app
4. Within the app go to "Settings" and click on "Manage Pressure Soles"
5. Click on "Pair" and then select each of your pressure soles out of the list to pair them to the app.
You don't need an internet connection to record your sessions. However you should sync and upload your swing videos regularly to free up space on your phone storage. You can define in the app settings wether you want to use your mobile data or only upload when a Wi-Fi connection is available.
1. Check if Bluetooth is activated in your phone settings.
2. Check if your smart pods are activated and charged. If they don't start blinking blue when you activate them by pressing the button, plug them into the charger. The light will turn red to indicate that the smart pods are being charged. It will turn green once the charging is completed. Then re-connect your pressure soles through the BAL.ON app.
3. Check your surroundings. The Bluetooth connection can be disrupted if your pressure soles are more than 10 meters away from your phone or multiple other Bluetooth devices are active.
If your coach is registered with the BAL.ON academy, you can submit your sessions and swings to receive a swing assessment. If your coach is not yet registered with the BAL.ON academy, please have them reach out to contact@bal-on.golf.
You should have iOS 11.0 installed at the very least, to make sure that everything operates smoothly. In terms of hardware, we recommend using an iPhone 6 or higher, to record videos with 120 frames per second.
No. Your data is yours. BAL.ON keeps your record through your entire playing life. This access is available for free. See every swing of your career, learn from it, improve.
Yes, you can use the iOS App on your iPad.